Do you wanna know how you can lose weight as a nursing mother? Then know this for a start: Breastfeeding does not make you lose weight. I know a lot of you thought it does. Just because you lose a few calories here and there doesn't necessarily make you lose weight, especially when you consume more calories in a day than you should.
Now I don't want to leave you in a state of uncertainty. I will show you the most healthy way to lose weight while breastfeeding so you don't affect the necessary nutrients your baby needs to grow. a
There are perfect methods that can help you achieve this.. methods like
Eating the right food
Getting enough sleep
Staying hydrated all the time
Exercise (I bet you thought I would skip this one)
These methods above are things you already know, but the question is do you effectively practice these things, effectively? That's what we are going to find out because I will be showing you how effectively implement these methods for rapid results in a way that will also keep your suckling baby healthy.
HERE ARE MY WELL WRITTEN METHODS TO LOSING WEIGHT WHILE BREASTFEEDING
EATING THE RIGHT FOOD
You know, if you don't take care of the kind of food you eat while breastfeeding it can lead to issues while trying to lose weight. For instance, you have to ensure that you take in the necessary calories than can ensure that you and your baby is safe. In calculating the number of calories you should take a day.
Each of your meals should contain at least 600 calories which can round up to you consuming up to 2000 plus calories a day. Thou this method can keep you a little bit hungry sometimes but will definitely keep you and your baby on the safe side.
HERE ARE THE KINDS OF FOOD YOU SHOULD CONSUME
Lean protein
Fruits and vegetables
Healthy fats
LEAN PROTEIN
It's called lean protein because it has low saturated fat. Chicken is a very good example of a food with lean protein.
There are also lean protein powders in stores and that would be a very quick easy-to-go substance you could add to your food or early morning smoothie or whatever.
Search and consume proteinous foods with low saturated fat. You can also start by ensuring that your diet comes with a lap of chicken in it, and with that, you will get the job done.
FRUITS AND VEGETABLES
Make sure to start or end the day with at least a glass of fruit and vegetable juice, smoothie, or whatever you may have to do with fruits and vegetables.
There are lots of exotic fruits out there. You can choose to mix banana and strawberry to get a different taste. Also remember to add salads, lettuce, or spinach to your meals. You can also chew on some carrots for an appetizer. These habits alone are powerful and can add up a huge chunk of your calorie intake.
HEALTHY FATS
Telling you to deliberately attach fat to your meals is quite an irony, isn't it? If it was years back I would have agreed with you but from experience, I think you will want to listen to what I got to say.
As a nursing mother, you definitely are going to need healthy fats n your diet. Some of the foods with healthy fats are Walnuts, Chia seeds, peanut butter, Soybean Avocado, and many more. I would suggest you add these kinds of food to your diet too.
You can also consume peanuts for snacks. Make sure you consume lots of nuts during the day. If you are allergic to peanut butter and one of these things then there are lots of options to choose but make sure you consume some healthy fat foods daily.
STAY HYDRATED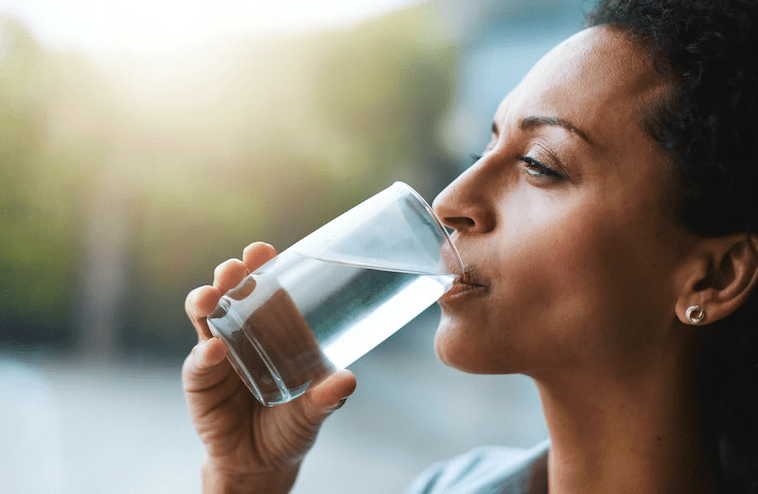 Drinking enough water is medicine on its own. It literally takes care of a lot of things in the body. For a breastfeeding mum, you need to have constant fluid in the system.
If you have read the previous article about water weight you will know I spoke about drinking enough water to lose weight. In this case, I would suggest you take at least 8 cups of water a day. These help to wash off toxins out of the body also giving you that shredded body you would love.
EXERCISES
Here is where a lot of women get turned off. Some of you are looking for one magic pill that will make the whole weight just go away.
The main truth is that's not possible. I think 70% of the reason why a lot find losing weight dreadful is mostly because of the idea that they have to go to the gym. For a nursing mother that's even twice unachievable. There are types of exercises you could do at home. Cardiovascular exercise is one of them.
Cardiovascular exercises involve running, jogging, rope skipping, and any other exercises that can get your heart and lung to pump. Such exercises help in the circulation of blood in the body, all the same keeping you healthy and effective.
This exercise program doesn't take the whole day.
15 to 30 minutes of exercise daily can give you results someone who hits the gym may not have.
Personally, I would suggest you wait after 7 months of childbirth before thinking of exercising just to be on the safer side.
CONCLUSION
The last but not the least advice for you is to breastfeed more often, not just because it burns calories but it also goes well with the diet and exercise. As you exercise and your fats begin to disappear, your body will still have no option but to produce more milk. As you breastfeed constantly combining the exercise and diet you will notice a healthy weight loss.